Termites, commonly known as white ants, may seriously harm timber furniture and buildings without giving off any outward symptoms. It is crucial to address termite infestations by implementing both short-term and long-term measures to effectively eliminate these destructive pests. Immediate treatment options involve the use of termite insecticides, while long-term preventative techniques focus on regular inspections, resolving moisture issues, sealing entry points, and adopting preventive measures. The discovery of termites at home can be a distressing experience, considering the potential harm they can cause to wooden furniture and other wooden possessions. Seeking professional assistance from termite control experts can provide valuable insights regarding this.
In addition, this blog will provide you with the best home remedies for termite control at home, ensuring you have effective options to combat these pests.
What are Termites?
Termites are social insects that feed on wood and other cellulose materials. They can cause extensive damage to structures if left unchecked. Termite management involves implementing strategies to prevent, detect, and control termite infestations. This includes regular inspections, maintaining proper sanitation, eliminating moisture sources, using barriers or chemical treatments, and seeking professional termite pest control services when necessary.
How To Detect Termites at Home?
Detecting termites in your home can be difficult because they often hide in inaccessible places such as walls or flooring. There are, however, numerous warning indicators that can assist you in identifying a termite infestation. Keep a look out for the following early warning signs of termite infestation in your home:
Mud tubes on walls
Wooden dust around the furniture
Holes and cracks in furniture or wooden structures
Discarded wings scattered on the floor
Cracks on wall paints
Hollow floorboards or furniture
Windows or doors getting stuck
The foul smell of dampness around wooden structures
Best Home Remedies to Eradicate Termites from Your Home
Following are some effective home remedies that can assist you in getting rid of termites and safeguarding your home from further damage.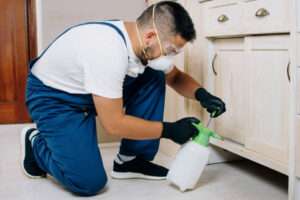 Sunlight Exposure Aids in The Treatment of Wood Termites
Sunlight exposure is a powerful natural way to get rid of termites. Termites dislike sunshine because they prefer moist, dark environments. To get rid of termite infestations, wooden furniture should be left in direct sunlight continuously for two to three days.
Termites are stressed out by the sun's heat, which finally results in their demise. Additionally, by removing moisture from the furniture, this method successfully kills termites. Notably, this strategy offers a chemical-free substitute for termite management in residential settings.
Use Neem Oil
Neem oil's strong aroma functions as a natural insect repellent that also kills bed bugs and mosquitoes in addition to wood borers. Without having any negative side effects, neem oil can be used as a natural insecticide to get rid of termites in wooden structures.
Spray Boric Acid to Permanently Remove Termites
Making a solution of borax powder and water and spraying it on the places where termites are an issue would provide efficient termite control at home. By employing this method, which is risk-free and non-toxic, termites found in cabinets and other wooden furniture will be eradicated. You can increase this solution's potency by using it more than once.
Additionally, you may enhance this method by adding a cardboard trap in addition to the borax spray to have even greater results while battling termites. Your home will benefit from improved anti-termite treatment thanks to this combination strategy.
Try and Test Orange Oil
Never undervalue the effectiveness of orange oil for eliminating termites in your home. The principal poison that termites and other pests find intolerable is D-limonene, which is present in this oil. Use an orange oil and water spray to eliminate pests in your house naturally, including termites.
Keep Away Your Wood from Soil
The best way to reduce the chance of a termite infestation is to build your house far away from your lawn or garden. According to experts, there should be 18 inches gap between your home and the garden area. By taking this precaution, you may dramatically lower the risk of termites colonizing close to your home and lessen the possible harm they can do. You add an extra layer of defense against termite entry by building a physical wall between your house and the garden. This wise action helps protect your home against termite infestations in the long run.
Try White Vinegar for Termites
White vinegar is something that the majority of us do have in our homes. Just combine 2 teaspoons of white vinegar, 1 teaspoon of lemon juice, and 1/2 cup of water, and that's it. These bugs like wood are ready to be eliminated by your termite control method.
Aloe Vera or Petroleum Jelly is Effective
If you don't have access to any remedies at home, use petroleum jelly to kill termites. Aloe vera and petroleum jelly both contain phenol, which has the potential to suffocate termites. Both of these are effective natural termite treatments for households.
Use Salt
Termites can be precisely and successfully treated at home using regular table salt, which is available in every home. Create salty water, put it in a spray bottle, and use it to spray the damaged portions of your home. The termites infesting your home will ultimately die as a result of the salty solution's ability to dehydrate them.
Heat and Cold Treatment
Heat therapy is the most effective way to kill termites at home. It involves blowing hot air or raising the temperature to 120 degrees and holding it there for 30 minutes. Cold treatment, however, takes longer to manifest and requires lowering the temperature by up to 15 degrees and keeping it there for up to 4 days. Both treatments help us to solve the termite's issues effectively.
Closing Remarks
In conclusion, when it comes to combating termite infestations, there are various approaches available. While termite pesticides are commonly used, natural remedies such as neem oil, boric acid, orange oil, and sunlight exposure can also be effective.
Additionally, if you are seeking a professional to ensure comprehensive termite control services, Just call facility is the right place for you.
By availing the services of Just Call Facility, you can benefit from their expertise in dealing with termite infestations, safeguarding your home from further damage, and restoring peace of mind.