Termites, despite their modest size, have a big impact. They endanger not only the furnishings but the entire inside of a building, whether it be a house or an office. To avoid termite damage, prevention is essential. While some people might try using DIY cures, they frequently fail to effectively combat termites. Therefore, hiring a professional pest control expert is necessary for effective termite treatment. In this blog, we'll examine the termite treatment processes and go into some chemical information. But first, let's define anti-termite treatment and examine its negative consequences.
Meaning of Anti-Termite Treatment 
Anti-termite treatment means imposing pesticides on termite-infested areas such as soils, electrical connections, brickwork, and timber. Termite prevention measures can be taken both before and after construction. Termites are a common pest that can severely destroy the structural integrity of homes and businesses. They build mud tubes as passageways from their nests to food sources, indicating a termite infestation. However, the lack of these indicators does not ensure the absence of termites or damage until it is too late. That's why it's crucial to take preventive measures against termites and ensure timely termite treatment to avoid further damage.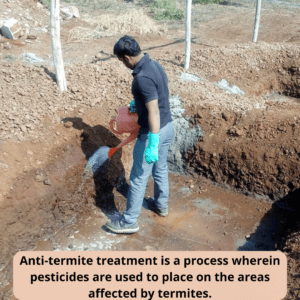 Procedures of Anti-Termite Treatment
The procedures for anti-termite treatment consist of two main approaches:
Pre-Construction Procedure
Post-construction Procedure
Pre-Construction Procedure
Pre-construction treatment is done prior to building construction. The following steps outline the pre-construction anti-termite treatment process:-
Treating the soil in the foundation trenches, utility entry points, and areas where concrete will be poured.
The earth's crust is first thoroughly washed of wooden and other garbage particles for wood floors, and then the entire surface is leveled  to the considered necessary elevation.
Incorporating termite-resistant materials during construction such as stainless steel or sand barriers.
In order to minimize moisture collection, which tempts termites, proper soil grading and drainage systems are put in place.
Construction sites undergo routine inspections to look for any indications of termite activity and deal with them right away.
Advantages of Pre-Construction Termite Treatment
When compared to post-construction treatment, termite control during construction is frequently more cost-effective. It does away with the necessity for substantial drilling or structural disruption of the building, potentially saving money on treatment costs.
Pre-construction termite treatment provides proactive protection for the structure by erecting a barrier against termites right away. It aids in stopping termites from invading the structure and inflicting damage from the start.
Pre-construction treatment offers long-term resistance to termite assaults by treating the soil and adding termite-resistant materials during construction. Lowering the possibility of termite damage over time contributes to the strength and longevity of the building.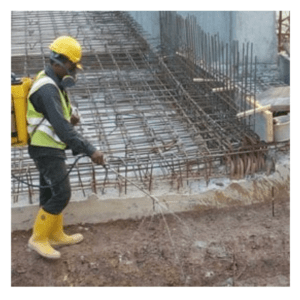 Post-Construction Procedure
This process is carried out after construction completion to eliminate termites and prevent further damage. The following steps outline the post-construction anti-termite treatment process:-
Digging small holes in affected areas.
Injecting pesticides into the holes.
Saturating the holes with chemicals and allowing them to soak.
Filling the holes with white cement, wax, or suitable material.
Splashing pesticides on the surface or infested area if the infestation is severe.
Replacing termite-damaged wood with new wood products treated with oil or kerosene-based chemical emulsion.
Advantages of Post-Construction Termite Treatment
Post-construction termite treatment enables the targeted eradication of termite infestations already present within the structure. It concentrates on certain locations where termites have been found, efficiently getting rid of them and stopping additional damage.
The flexibility of post-construction treatment comes from its applicability to both new and existing structures. Regardless of the state of construction, it can be adjusted to the particular requirements and vulnerabilities of the building to ensure effective termite management.
Post-construction treatment offers an additional layer of protection even if pre-construction treatment has been used. The building is further protected against termite infestations by filling in any holes or vulnerabilities that might have gone unnoticed during the initial treatment.
Anti-Termite Chemicals
The following chemicals are used in the process of termite treatment:
Chlorpyrifos 20% EC
Lindane 20% EC
Imidacloprid 30.5% SC
Boric Acid
Orange Oil
However, utilizing any of these substances is equivalent to doing half of the work. To determine whether these crafty, wood-eating ghosts have taken up residence in your home, it is always preferable to call a pest control specialist.
Wrapping Up
In conclusion, anti-termite treatment is a preventive measure to control and eradicate termite infestations. The procedure involves inspecting the premises for termite activity, applying chemical or non-chemical treatments to eliminate existing termites, and implementing protective measures to prevent future infestations. This treatment helps safeguard structures by creating a barrier that repels or kills termites, ensuring long-term protection against their detrimental effects.
If you are looking for anti-termite treatment in Noida, Just Call Facility stands out as a reliable choice. With a team of skilled professionals and advanced technology, they offer a comprehensive range of termite control services in Noida.