Termites are nearly the small creatures but they harm largely. Not only to the furniture but slowly it spreads to the whole interiors. Whether its premises or office or home, termites cause damage primarily. Anti-Termite Treatment Procedures It is said that we should prevent anything before it affects us much. Anti-termite treatment is much needed when termites don't go with normal chemicals. Many of them try their hands on home remedies but they won't work as effectively as anti-termite treatment. So, it's better to take up services by pest control as they will assist you in termite treatment. Through this blog, you will know the procedures regarding termite treatment and some facts about anti-termite chemicals. But before let's learn its meaning
Anti-Termite Treatment Procedures
MEANING OF It –
Anti-Termite Treatment Procedures
Anti-termite treatment is a process wherein pesticides are used to place on the areas affected by termites. The places such as soils, electrical connections, bricks, timber, etc. They can be used before and also after the construction. It, therefore, gives protection from termites. Termites are the most common pests that cause significant structural damage to homes and businesses. They build pathways and mud pipes from their nests to food sources. The mud tube is a dead giveaway of a termite infestation. The exclusion of these termite signs does not imply the absence of termites, nor does it imply that no damage is detected until it is too late. Therefore, when it comes to termites, taking preventive measures is better. So, to avoid further damage, make sure the termite treatment is completed on time.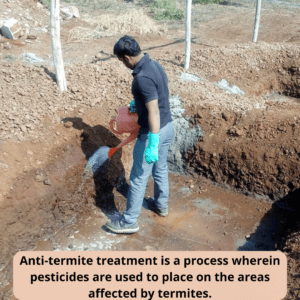 ANTI-TERMITE TREATMENT PROCEDURES
  There are two types of anti-termite treatment
Pre-Construction Anti-termite treatment
Post-construction Anti-termite treatment
Pre-Construction Anti-termite treatment 
Anti-Termite Treatment Procedures
The pre-construction anti-termite treatment methodology is outlined below.
1. The edges and bottom surfaces of base trenches and holes are handled with an anti-termite chemical at a rate of 5 Lit per square meter  of the total area to an altitude of about 30cm for the foundation drilling.
2. The earth's crust is first thoroughly washed of wooden and other garbage particles for wood floors, and then the entire surface is leveled  to the considered necessary elevation.
3. At 15 cm intervals, holes of 30 cm depth are dug, and an emulsion of the desired concentration is generated by adding water to the  chemical.
4. This emulsion will be poured into the holes and sprayed on the surface using force pumps and sprayers.
5. The pesticide is able to simply soak through the holes.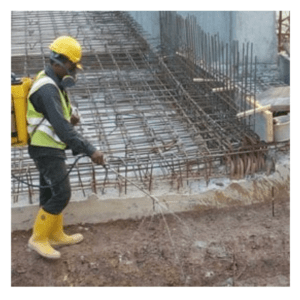 Post construction Anti-termite treatment 
Anti-Termite Treatment Procedures
This treatment is usually performed after the building has been completed and contains recycling old termiticides in the soil around the foundation. The process of post-construction anti-termite treatment is outlined below.
1. Digging small holes in contaminated areas.
2. Pesticides are injected into the holes as needed.
3. All such holes are saturated and left to soak in chemicals.
4. All of the holes are filled with white cement, wax, or any other material appropriate for the purpose. Pesticides are splashed on the   surface of the product or infested area if the infestation level is high.
5. The termite-damaged wood can be replaced with new wood products brushed in this treatment using an oil or kerosene-based chemical    emulsion.
ANTI-TERMITE CHEMICALS: 
Anti-Termite Treatment Procedures
The following chemicals are used in the process of Anti-termite treatment
20 percent EC chlorpyrifos
20 percent EC Lindane
30.5 percent SC Imidacloprid
These contaminants are used in emulsifiers to give protection to a building from termite attack, and an oil or kerosene-based remedy of these chemicals with a 1.0 percent is used in treating timber.
ADVANTAGES 
There are also some advantages of Pre-construction as well as post-construction. So, let's take a look at both of them.
Pre-Construction Termite Treatment advantages 
1.  Pre-construction termite treatment involves fewer steps than post-construction termite treatment. Therefore, the cost becomes  affordable.
2. A termite infection is hard to detect after building projects until it has caused significant damage to buildings. Pre-construction  treatment is therefore preferred for total termite prevention.
3.  The numerous barriers or obstacles in pre-construction treatment are nearly identical to that of post-construction treatment.  Walls  are the obstacles that allow the house to have corners and nooks. Availability is easier when there are no walls.
Post Construction Termite Treatment advantages 
Post-construction termite treatment is a critical strategy for preventing pest infestation and includes a variety of preventative measures and tips.
 It provides immediate protection for any termite-infested exterior.
If a thorough task is completed successfully on a regular basis, it can last for many years.
It is both less expensive and much more productive.
Just Call Facility 
If you are looking for anti-termite treatment in Noida then Just Call Facility should not be missed out. One can choose us for any type of pests or termite treatment as our services are given by professionals and with upgraded technology.