Pests are unwelcome guests that invade our homes, gardens, and workplaces, causing damage, spreading diseases, and generally disrupting our daily lives. Fortunately, with the help of pest control, we can protect our surroundings and ensure a safe and healthy environment. It employs various techniques and strategies to prevent, reduce, or eliminate pests. In this blog, we will explore the significance of pest control, the different methods employed, and why it is essential for every homeowner and business.
What Exactly is Pest Control?
The management and regulation of pests to lessen their detrimental effects is known as pest control. It refers to the management and regulation of pests to minimize their negative impact on human health, the environment, and property. It involves identifying, preventing, and eliminating pests through a combination of various techniques and strategies. These pests can include insects like cockroaches, ants, and termites, rodents such as rats and mice, as well as other nuisance animals like birds and squirrels.
Why Pest Control is Required?
Pest control is crucial for maintaining sanitation, stopping the spread of diseases, and fostering a healthy atmosphere. Additionally, it contributes to maintaining the property's quality and integrity. Below are some reasons why pest control is necessary.
Termites, rats, and cockroaches are just a few of the pests that can seriously harm your home. The wood structures on your property can get brittle and unstable due to termites, rodents, or pests like mice and moles that might harm your yard. As they destroy root systems and look for insects to eat, rats and moles hunt food underground and build unstable underpasses. Rats, cockroaches, and other rodents can harm homes by eating through piping, a wall, clothing, wiring, and even automobiles.
Helps With Food Safety and Home Protection
If you are capable of eliminating bugs on your own, this is a fantastic preventative maintenance strategy. Nevertheless, you can maintain your health and safety with further expert pest control services. Pests can seriously harm your crops and impact how they grow if you have a garden or a vast farm. Additionally, it's crucial to keep the food in your pantry pest-free and safe to maintain good health. Along with protecting your home and food, a professional pest control service from a professional business or individual may ensure your safety.
Keep You Safe from Health Risks
Pests, including ticks, cockroaches, bedbugs, rodents, and mosquitoes, spread many diseases that can be fatal or cause major health problems. Additionally, finding different bugs in your house repeatedly might be annoying. Trying to get rid of bugs that bother you can be stressful. Moreover, can get rid of them and stop them from coming back to your home with the assistance of a knowledgeable pest control professional.
Continue to Receive Effective Treatments
Ants, cockroaches, mosquitoes, rodents, termites, bedbugs, and other pests can be difficult to kill with do-it-yourself techniques. These pests require a more thorough treatment than a one-time remedy. Even if you believe you have controlled the infestation, it cannot be eliminated. Before being destroyed, certain bugs lay eggs. With continued treatment, you can keep these pests under control and prevent future infestations.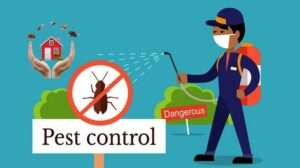 Various Types of Pest Management Methods
Although pest control services include  several different methods for dealing with infestations, they can be grouped into three broad categories of pest management, which we shall go into more depth about below.
In order to keep pests out of buildings and away from areas where they could cause harm, physical pest management approaches employ physical barriers, traps, and mechanical devices. It is a practical and ecologically responsible method of controlling insect populations.
Exclusion entails preventing access by sealing openings in walls, doors, and windows, as well as by adding screens to windows and doors. Moreover, you can use barriers like fences, netting, or tree wraps to stop pests from getting into certain regions or ruining crops.
There are many types of traps available for the capture and removal of pests, making them another crucial instrument in physical pest management. Physical pest management, which emphasizes prevention and uses non-toxic techniques to manage and control pests, offers a
The use of pesticides, insecticides, herbicides, and rodenticides to manage and control pest populations is a common and successful method of pest management. It entails applying certain chemical compounds intended to target pests and disturb their activity.
Using chemical pest control solutions safely is crucial, as is adhering to safety rules and regulations and donning protective clothing when applying them. In order to achieve effective and long-term pest management, integrated pest management (IPM) systems usually include chemical pest control as one of its components.
Biological pest control is a technique for managing and controlling pest populations by using natural predators, parasites, or diseases. It aims to use the natural enemies of pests to control their populations. It could entail adding advantageous organisms to the environment or utilizing microbial agents to contaminate and eliminate pests. Furthermore, it is frequently used in agricultural settings to enhance ecological balance and lessen dependency on chemical pesticides.
To make sure that biological control strategies are suitable for specific pests and environmental circumstances, it is crucial to properly examine and monitor their efficiency.
Wrapping Up
Pest control plays a vital role in protecting our homes, health, and environment from the adverse effects of pests. By understanding the significance of pest control and implementing appropriate methods, we can minimize the risks associated with pests and create a safer and healthier living space.
If you are facing a pest infestation or want to prevent one with the best pest control service techniques. Look no further than the Just Call Facility. Our team of experienced and knowledgeable technicians is equipped with the expertise and tools to tackle any pest problem effectively.