Living in a pest-free environment is essential for ensuring a peaceful and healthy life. Invading pests, such as insects, rats, and other unwelcome animals, can result in structural damage to homes, the transmission of illnesses, and the induction of allergies. Residential pest control services are essential for properly managing these annoyances. This blog will examine the different means by which these services guarantee homeowners a calm lifestyle.
Moreover, residential pest control services refer to professional companies or individuals that specialize in identifying, managing, and preventing pest infestations in residential properties. These services are essential for homeowners who want to maintain a pest-free living environment and safeguard their property and health from the harmful effects of pests.
Furthermore, residential pest control services provide a wide range of remedies for the many pest issues that are frequently encountered in homes. Ants, termites, cockroaches, bedbugs, mosquitoes, and spiders are some of the usual pests they deal with. They also deal with undesirable animals, including birds, squirrels, and raccoons, as well as vermin like rats and mice.
What are Residential Pest Control Services?
Residential pest control services are specialized ways to keep homes free from bothersome pests. These services make sure that homeowners have a comfortable and pest-free place to live. Pest control specialists identify and take care of various pest issues, including bugs (such as termites, ants, and cockroaches), rats, and other annoying animals. In addition, they employ techniques that are secure for both humans and the planet. These services involve searching for pest problems, identifying the pests that are causing trouble, developing plans to eliminate them, and routinely checking to ensure they are gone. It promotes the security and happiness of both people and their houses.
Key Features of Residential Pest Control Services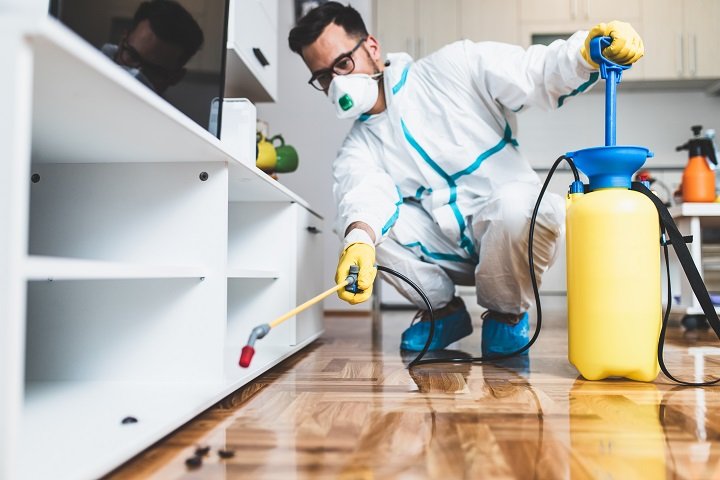 Inspection and Assessment
Professionals in pest control perform a complete assessment of the property to determine the kind of pests present, the severity of the infestation, and the causes of the issue. This evaluation aids in the creation of a successful pest management strategy.
Customized Treatment Plans
Pest control companies create specialized treatment programs to handle the particular pest problems in a house based on the findings of the inspection. These strategies take into account the kind of pests, the degree of the infestation, and the homeowner's preferences or worries.
Experts in pest management employ various techniques to get rid of pests from the area. To efficiently target and eliminate pests, these approaches may involve the use of baits, traps, insecticides, pesticides, and other environmentally friendly procedures.
In addition to getting rid of bugs that are already there, pest control services take precautions against new infestations. To stop pests from accessing the property, this involves restricting access points and sealing off entry points.
The health and safety of homeowners, their families, and pets are given priority by residential pest control services. They employ recognized, risk-free techniques to get rid of pests without endangering the environment or people's health.
These services provide homeowners advice and suggestions on ways to avoid future pest issues in addition to urgent pest control. It involves performing routine maintenance, removing food and water sources, and keeping good cleanliness.
Regular Maintenance and Follow-Up
To prevent the recurrence of pest issues, several pest treatment businesses provide continuous maintenance programs. However, to assess the success of the treatment and make any required modifications, they may schedule follow-up consultations.
Environmentally Friendly Solutions
Many residential pest control services prioritize eco-friendly approaches and opt for low-toxicity or organic solutions to minimize the impact on the environment.
Importance of Preventative Residential Pest Control
Residential pest control services offer various benefits for house owners. It not only keeps your home pest free but gives you peace of mind too. Some of the benefits of regular pest control maintenance include:
Pests can spread several illnesses and allergies that put residents' health in danger. For instance, rodents can disperse dangerous diseases, and cockroaches can precipitate asthma episodes. By getting rid of these disease-carrying pests, residential pest control services are essential for protecting the health of homeowners and their families. A pest-free house encourages improved indoor air quality, lowers the chance of infection, and improves general well-being.
Homeowners enjoy peace of mind when their house is pest-free. Residents may feel at ease and calm in their own homes since the continual tension and concern brought on by pest infestations is reduced. Concerns about employing harsh chemicals for pest treatment may be put to rest as well because professional services promote safe and ecologically friendly methods.
Although some homeowners might try doing their own pest control, the results are frequently less successful than those obtained by hiring professionals. Home pest control firms offer the knowledge, skills, and tools necessary to effectively treat pest issues. In the long term, homeowners that engage in expert pest control services save time and money because the chance of recurrent infestations and expensive damages is considerably decreased.
Effective pest management includes not just addressing the current issue but also preventing further infestations. Experts in pest management consult with homes to inform them of potential risks and offer suggestions for keeping a pest-free environment. They provide proper home sanitization services and helpful guidance on correct procedures for removing food and water sources, and routine maintenance to prevent pests from being drawn back into the building.
Pest-free homes are more appealing to prospective purchasers. Additionally, regular pest control maintenance may increase the value of your home and make it more appealing to potential purchasers should you decide to sell.
Bottom Line
Residential pest control services play a vital role in ensuring peaceful living for homeowners. By identifying and assessing pest problems, implementing tailored treatment plans, and employing preventive measures, these services create a safe and comfortable living environment. Through their efforts in eliminating pests, preserving property, and safeguarding health, they provide homeowners with peace of mind and a higher quality of life. Investing in professional pest control services is not only a practical decision but also a responsible choice for maintaining a healthy and pest-free home.
FAQs
1. What are residential pest control services, and how do they work?
Professional pest control services for residences involve identifying, preventing, and eliminating pests in houses and other residential buildings. Therefore, to provide a pest-free environment, pest control professionals combine inspection, treatment, and preventative measures. However, people use various techniques like spraying, baiting, trapping, and closing access sites to treat pests based on the type of infestation.
2. Why is residential pest control essential for peaceful living?
Pests can disturb a home's peace and have a detrimental effect on the well-being of its people. Additionally, they have the potential to harm property, transmit illness, and aggravate allergies. Invest in domestic pest control services to maintain a peaceful living environment free from pests' health hazards.
3. Are residential pest control treatments safe for children and pets?
The security of its customers, including children and pets, is a top priority for reputable pest treatment firms. They utilize EPA-approved, regulated goods specifically designed for domestic use. Pest control technicians receive training to use treatments properly and minimize exposure to people and animals.
4. How often should I schedule residential pest control services?
Property infestation, pest type, and location impact pest control treatments frequency. Preventive measures often recommend frequent quarterly treatments, though more severe infestations may necessitate more frequent initial visits. Regular inspections and consultations with pest control professionals may determine the right plan for your particular scenario.
5. Are there eco-friendly pest control options available for residential properties?
Yes, many pest control companies offer eco-friendly pest control options that use natural and non-toxic products. These environmentally friendly methods aim to control pests while minimizing harm to beneficial insects and the ecosystem.