What is meant by Termite treatment pest control?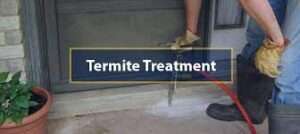 Termite treatment pest control Gurgaon, Termite treatment means the application of pesticides, excluding fumigants, in or around different structures, or to the ground former to construction of a structure, for the control of termites and other invertebrate wood damaging insects. The plan of pre-construction termite manage treatment is to create an anti-termite barrier underneath the building structure to protect against destruction caused by subterranean termites. We, Just Call Facility provide one of the best Termite treatment pest control in town.
Pest Control Termite Treatment Cost (Approximately)
Treatment Type
Price Range for
1 BHK (in Rs.)
Price Range for
2 BHK (in Rs.)
Price Range for
3 BHK (in Rs.)
Price Range for
4 BHK & 5 BHK (in Rs.)
Basic Treatment
700 – 800
950 – 1150
1200 – 1500
1200 – 1500
Cockroach
650 – 750
750 – 900
950 – 1000
1000 – 1200
Bedbug
1000 – 1100
1100 – 1300
1300 – 1400
1450 – 1650
Cockroach & Bedbug
1200 – 1400
1500 – 1800
1850 – 2000
2300 – 2500
Mosquito & Flies
550 – 650
650 – 800
950 – 1000
1000 – 1200
Rat & Rodent
400 – 600
600 – 800
800 – 950
1000 – 1200
How to get rid of Termites Permanently
While you cannot get free of termites permanently from the atmosphere, you can help to avoid them from taking root in your house and control any lively colonies nearby. Even though it may be attractive to try Termite treatment pest control solutions by you, prevention and treatment is best left to the experts.
Termite treatment pest control As termites can be active in your house with little signs of an infestation – if any you will need the help of a skilled termite expert trained in termite identification, behavior, prevention and treatment to control the infestation. Termite treatments can be the most multifaceted treatments of any domestic pest management issue. Termite treatment pest control, Depends on the species of termite, the colony's location and the extent of infestation, your expert may need to use more than one treatment method. Termite treatment pest control These methods often need specialized tools and techniques.
How to treat termites for Walls
General signs of termite damage to a wall include:
Small pin holes, where termites have eaten all the way through the paper coating on drywall and wallpaper. You may see dirt in a hole prepared by subterranean termites.
Faint outline on drywall.
A void sound when you tap on the wall.
Fizzy or peeling paint.
Baseboards that fall to pieces under minor pressure.
Blocked doors or windows.
Termite treatment pest control, If you see any of such signs you need to take care of termites for your walls a few of the best ways to get relieve from termites is to apply termite killing goods to your home's exterior, apply direct chemicals on the inside of your house, set up termite baits, and spray boric acid in your floors and walls.
Termite Treatment Spray
Termite treatment pest control
Taurus SC
Bifen XTS
Spectracide Terminate
Termidor Foam
Bio Advanced Termite Killer
Termite Treatment at Home
Just blend up a half a cup of vinegar with the squash from two lemons, and you have got your termite destroyer. Deposit it in a spray bottle and spray the combination around the area where you believe the termites are. The acidic substance will kill the termites on getting in touch with. Make sure you spray frequently to catch any termites you did not get with the previous treatment.
Sodium borate sold usually as borax powder, can kill termites as well as wash your laundry. You can either dust the powder around the affected area, or you can mix it with water and spray it into an area that you believe to be infested. As with the vinegar, you will need to reapply the solution to make sure that you are reaching more of the colony.
Orange oil is prepared mostly of d-limonene, which is poisonous to termites. Termite treatment pest control The oil is derived from orange peels, and you can purchase it from house improvement or garden stores, as well as online. Orange oil causes the exoskeletons of termites to dissolve, which causes them to lose humidity and proteins and then to die. Spray the oil directly onto termites or on areas where you believe termites to be. You can also spray the oil to prevent termites from coming into the area. Hence, Termite treatment pest control or spraying it regularly is a good way to keep your home free of termites, whether you at present have any or not.
Set up a cardboard entrap. Take a pair flat strips of cardboard, wet them, and heap them on one another in an area where termites are likely to be. Since termites feed on cellulose, this makes for an outstanding spot trap. When the cardboard is infested with termites, take it out in a safe area and destroy it by fire. Termite treatment pest control Repeat several times, if necessary.
Expose your wood to daylight. If the termite infested thing is not your residence but rather a piece of furniture or an item that can be separated from your house, expose it to daylight. Termites flourish in darkness, and the heat and light from the sun will kill them. On a sunny day, place your furniture outside for as long as possible for 3-4 days.
Frequently Asked Questions
What are the charges for getting a pest control treatment for termite?
The starting price of pest control treatment for termites is Rs. 500 approximately.
Do termite pest control service providers in Kolkata only treat termites?
While termite pest control service providers are experts at treating termites, they do treat other mites, bugs, and insects as well.
Is pest control good for termites?
They can also be effective on flying pests that land of treated areas. However, general pest control treatments have no effect on Subterranean Termites in their protective mud tubes and underground colonies.
What is the most effective treatment for termites?
Fumigation
Fumigation. Fumigation is an intensive way to rid your home of severe termite infestations. The process involves enclosing the infested area and exposing all termites inside it to sulfuryl fluoride gas (Vikane). The fumigation process typically takes around 3 days.
Do termites come back after treatment?
The bad news is that in some cases, termites come back after treatment. In fact, they're some of the toughest pests to eliminate from a property.
How long do termites live after treatment?
How Long Do Termites Live After Treatment? On average, termites will start dying off within a day or two, if you are using chemical treatment. In the event of serious infestations, you may have to wait longer for the treatment to kill the entire colony, since it has to reach the queen.
What attracts termites in the house?
Leaky pipes, improper drainage, and poor airflow all create moisture issues that attract termites. Damp wood and subterranean termites in particular thrive in humid environments. While damp wood termites prefer water-damaged wood, subterranean termites are unable to live unless surrounded by enough moisture.
What are signs of termites?
Evidence of Termites
Discolored or drooping drywall.
Peeling paint that resembles water damage.
Wood that sounds hollow when tapped.
Small, pinpoint holes in drywall.
Buckling wooden or laminate floor boards.
Tiles loosening from the added moisture termites can introduce to your floor.
Excessively squeaky floorboards.