Home Deep Cleaning Service, Housing areas need to be cleaned and maintained on a regular basis. The task of Home Deep Cleaning Service is a tiresome one, mainly for today's working professionals. But a clean home is something that everybody desires.
To remove the stress, one can hire residential Home Deep Cleaning Service that offer a variety of cleaning solutions for different kinds of residential areas such as houses, flats, apartments, etc. Regular Home Deep Cleaning Service are the ones which can be done on a regular basis, say weekly. Here the motto is essential cleaning. The cleaning in Home Deep Cleaning Service includes cleaning the floor or Dusting, overall. The best part of this service is the charge, and they are not much compared to deep home cleaning.
What does Professional Home Deep Cleaning Include?
Home Deep Cleaning Service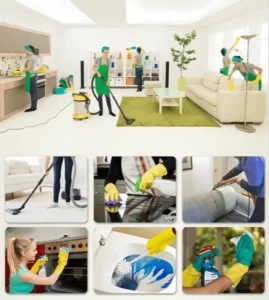 To provide your home a deep cleaning, follow these steps.
Bedrooms and drawing room Cleaning
Cleaning behind fixtures
Cleaning ceiling fans and lamps
carpet and upholstery cleaning
separately dusting decorations
Cleaning lamp shades
Cleaning baseboards, windows, and door frames
Cleaning window sills and tracks
Wall cleaning
Vacuuming along the boundaries of walls and other gaps
fixtures Dusting
Bathroom Cleaning
Grout scrubber
Cleaning fittings of soap scum and lime scale
Cleaning the baseboards and the door frames carefully
Cleaning inside medicine cabinets and vanities
Sanitizing handles
Cleaning the commode's base
Shower door, curtain, and crevice cleaning
Kitchen Cleaning
Cleaning inside appliances (micro oven, fridge, microwave)
Cleaning the stove hood and filter
Cleaning the cabinets
Cleaning grout on backsplashes or countertops
tiny kitchen appliance cleaning and disinfection
De-cluttering within cabinets and drawers
Sanitizing switches and knobs
5 Reasons to Hire Professional House cleaning service?
Home Deep Cleaning Service
Leaves Your House Professionally Cleaned
Home Deep Cleaning Service As tough as you may try, you simply cannot clean your home as well as a professional. With their advanced understanding and quality equipment, the cleaning professionals are able to eliminate dust and bacteria you did not even know existed in your house. After your house has been professionally cleaned, you can rest guaranteed that everything is properly sanitized to improve the overall health of your people.
Keep up Home Hygiene
Dust allergies are a big trouble in homes. A lot of children and adults have developed allergies to dust. It is a common allergen that causes prickly eyes and a runny nose. When you hire a professional cleaning service to keep your residence clean, they will make use of Filter vacuums to get free of as much dust as possible from your house.
Home Deep Cleaning Service The house cleaning professionals disinfect your bathroom, kitchen, floors, carpets, and sofa so that all the microbes and allergens are removed or killed from your house. Homeowners can stay outside while cleaners get clear of the dirt and dust in the residence.
Reduce Tiredness and Stress
Home Deep Cleaning Service Dealing with your daily routine and balancing your work and house life can become irresistible. After working a full day and then coming home to care for your family, not much time or power is left to work on cleaning your home. Overextending yourself can have a serious impact on your health, including tiredness and stress.
When you allow professionals to do the cleaning, you can relax while they do all the work. There is no need for you to strain yourself or get stressed out from performing chores. A professional cleaning service can use special techniques to banish microscopic organisms in your residence that cause infections.
Protect Kids at Home
Little children and infants are more prone to various infections and need to be protected. Home Deep Cleaning Service The best way to ensure that your children are safe is to keep your home sterilized. Book Professional home cleaning services near me to make sure that your home is kept clean at all times, no matter how hectic your timetable gets.
Keep Mould Away
Bathrooms tend to be a breeding ground for numerous types of bacteria, such as mold, fungi, and other gastrointestinal viruses. It can be hard to get rid of all the bacteria in your bathroom, especially when you are pressed for time and don't always have the time to do a deep clean. Professional home cleaners will have the equipment and time to contribute to cleaning your bathroom so that you can ensure its clean, week after week.
Home Deep Cleaning Service
Complete cleaning and hygiene: from pressure vacuuming to disinfecting the whole house, the Just Call Facility professionals ensure too deep clean your home carefully that provides lasting effects for 3-4 months.
Well-qualified & Verified Cleaners: All Just Call facility professionals are skilled and taken through levels of background confirmation before getting on board to guarantee the quality of work.
Insurance against Damage: With Just Call Facility you get insurance coverage up to Rs. 5,000 on every booking against any damage.
Usage of Professional grade chemicals: Considering the hygiene of your home, we at Just Call Facility only use Professional grade harmless chemicals for home deep cleaning.
Flexibility: Just Call Facility provides you a complete professional home cleaning service to meet all your cleaning needs at your preferred location and time.
Home deep cleaning service in Delhi NCR Charges
Home Deep Cleaning Service
1BHK 3499 ₹
2BHK 4499 ₹
3BHK 5499 ₹
4BHK 6499 ₹
5BHK 7499 ₹
How often should you book a full house cleaning service?
Home Deep Cleaning Service
Every 6 months, to keep your house clean and allergen-free for your family.
Before moving into a new house or after repair work.
Before or after a social gathering or get-together.
In case you are in need of a professional to help you with house cleaning near me, call us at Just Call Facility. We are confident to help you eliminate the dirt and stains from your home in a prompt and efficient manner.
 Frequently Asked Questions
What do I need to do before home deep cleaning service?
We request you to remove all the expensive and valuable items from the cabinets and the wardrobes before the internal cleaning begins. Anything kept outside or in a showcase or a trolley also needs to be removed. Apart from this, we recommend you have a detailed discussion with the assigned professional so you can communicate your expectations from the service.
How much time will it take to get my house deep cleaned?
It depends on the service, the package you choose and the size of your house (number of bedrooms). At the time of booking, we give you a fair idea of the duration of the service in the "view details" section. On an average, home deep cleaning takes about 6 hours.
What is included in the house cleaning service?
A typical house cleaning includes dusting, vacuuming, sweeping and mopping the floors in all rooms, mirrors, toilets, showers, and baths in the bathrooms. They also include cleaning the kitchen, wiping appliances, counters, sinks, cabinet doors, washing and drying dishes and putting them away.
How do I book a home cleaning session?
You can book a home cleaning session through the just call facility website or app. Just log in, pick a convenient time slot and our professionals will visit your home at the requested date and time.
What is included in deep cleaning a house?
Deep cleaning services might include:
Cleaning under furniture.
Wiping down ceiling fans and light fixtures.
Vacuuming and cleaning upholstery.
Cleaning blinds.
Dusting individual decorations.
Sanitizing trash cans and other surfaces.
Dusting lamp shades.
Cleaning baseboards, window frames, and door frames.
What is the difference between house cleaning and deep cleaning?
While regular cleaning is for your cleanliness upkeep, deep cleaning is a lot more extensive than your standard weekly clean. Deep cleans involve a complete rubdown and giving attention to the often neglected and hard-to-reach spots. Anything inside your home that can be reached with a stool will be hand-wiped.
What is the meaning of deep cleaning?
Deep cleaning is the complete and routine cleaning process that removes visible dirt, as well as bacteria and germs.
How long does it take to deep clean a house?
The short answer for how long to deep clean a house is to allow roughly 8 hours for a three bedroom house with a family bathroom, and move up and down by one hour for each additional bedroom and bathroom.
Does deep cleaning include dusting?
During a deep cleaning, professionals should dust the door, cabinets, and vents. Scrubbing the grout in the shower is included in most bathroom deep cleaning checklists too!
How long does it take to deep clean a 2 bed house?
Allow yourself 2 1/2 hours a week to clean a two-bedroom home. You should also add an extra 1 hour a week when you decide to deep clean. 3 Bedroom 2 Bath Home: If you have a typical three-bedroom home or apartment, you can expect to spend about three hours a week on basic cleaning.
How can you contact Just call facility?
Rasoolpur, Noida, Uttar Pradesh 201301, Uttar Pradesh, Noida, India.
Call: +91 8130721657