Deep Home Cleaning Services, Are you one of those who adore a clean home, but do not have the time or endurance to do it? Do not be anxious; it's a common thing for some people in this hectic generation. Your usual dusting and mopping are absolutely essential for a clean house, but it's not completely clean. Dust and dirt build up in the corners and many other parts of the home, which then turn into tough stains that are unfeasible to get free of with your usual cleaning. If it a spotless house you wish for, Just Call Facility is offering the best Deep Home Cleaning Services in Delhi, NCR,  Noida. Your house will be crystal clean without you even lifting a finger. The professionals at Just Call Facility are skilled with apt tools and products to give you a spotless clean house. Whether it's an apartment or a mansion, our professionals are voluntarily available at your service. Not only full Deep Home Cleaning Services, but we also provide detailed services such as bathroom deep cleaning, kitchen deep cleaning, sofa cleaning, etc. according to your handiness.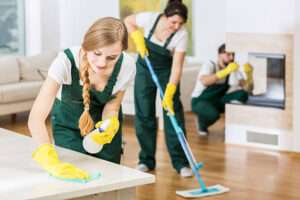 Deep Home Cleaning Services
Deep home cleaning services are more detailed cleaning of dirt, soap scum, grime, etc, and considering every part of the home and cleaning them completely. Home deep cleaning is just not limited to wiping off and dusting the microbes. But it includes sanitizing and disinfecting the surfaces to get free of germs and dust, which can make individuals sick. Deep cleaning is not required frequently instead it is done occasionally for instance. It can be done before changing to a new place or renting someone the place where we stay. No matter how tough you mop or scrub, there is no substitute for a deep, thorough cleaning by the professionals. Just Call Facility's professional cleaners are always on schedule and use the correct tools to provide you the very best service accessible in the market. Deep Home Cleaning Services After the job is completed, you will appreciate it was worth every penny.
Professional Home Cleaning Services
When it comes to booking professionals for any home cleaning services, one of our big concerns is security. Letting a unfamiliar person into our home and that too all of our rooms raises faith issues. However have no worry, because all our cleaners are verified and trustworthy. Prior to appointing any person, a detailed background check is conducted to make sure full safety for our clients.
Deep home cleaning needs the use of certain cleaning products and chemicals, to get clear of those hard stains. These chemicals can be damaging if it is spilled upon or sniffed. But we at Just Call Facility use only environment-friendly cleaning products and chemicals. The products used by us are risk-free for you, your family, and your pets.
Home Cleaning Services Price List India
Our Pricing of Home deep cleaning service in Delhi NCR
1BHK 3499 ₹
2BHK 4499 ₹
3BHK 5499 ₹
4BHK 6499 ₹
5BHK 7499 ₹
Frequently Asked Question
What do I need to do before home deep cleaning service?
We request you to remove all the expensive and valuable items from the cabinets and the wardrobes before the internal cleaning begins. Anything kept outside or in a showcase or a trolley also needs to be removed. Apart from this, we recommend you have a detailed discussion with the assigned professional so you can communicate your expectations from the service.
How much time will it take to get my house deep cleaned?
It depends on the service, the package you choose and the size of your house (number of bedrooms). At the time of booking, we give you a fair idea of the duration of the service in the "view details" section. On an average, home deep cleaning takes about 6 hours.
What is included in the house cleaning service?
A typical house cleaning includes dusting, vacuuming, sweeping and mopping the floors in all rooms, mirrors, toilets, showers, and baths in the bathrooms. They also include cleaning the kitchen, wiping appliances, counters, sinks, cabinet doors, washing and drying dishes and putting them away.
How do I book a home cleaning session?
You can book a home cleaning session through the Just Call Facility website or app. Just log in, pick a convenient time slot and our professionals will visit your home at the requested date and time.
How often should a house be deep cleaned?
How often should you deep clean your home? Some homeowners perform a deep clean of their homes once or twice a year. If you're not doing a thorough cleaning of your house on a daily or weekly basis, then you'll want to ensure you deep clean it at least once or twice a year.
How long does it take to deep clean a house?
The short answer for how long to deep clean a house is to allow roughly 8 hours for a three bedroom house with a family bathroom, and move up and down by one hour for each additional bedroom and bathroom.
Does a deep cleaning remove plaque?
Dental deep cleaning, also known as scaling and root planning, involves special techniques to get rid of plaque, tartar, and bacteria below the gum line down to your tooth roots. This prevents gum disease from advancing and causing tooth loss.
Are deep cleanings worth it?
Left untreated, the pockets in your gums will continue to grow, as will the build-up of plaque and tartar and your risk of bone loss. Short of surgery, deep cleanings are the best way to reverse the negative effects of periodontal disease.
How can you contact Just call facility?
Rasoolpur, Noida, Uttar Pradesh 201301, Uttar Pradesh, Noida, India.
Call: +91 8130721657